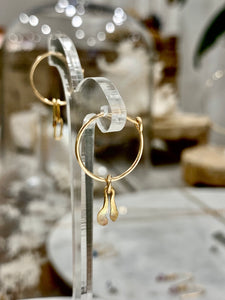 The Araiya wish earrings are small hoop earrings handcrafted in 14ct gold fill and adorned with wishbone charms.
The Ancient Etruscans believed that birds were magical creatures, oracles that could see into the future and the furcula bone would be preserved, blessed by the sun & held in hope to receive some of its divine power. This folklore of heavenly insight transcends throughout the centuries in the charm of the wishbone.
The Araiya wish earrings make the perfect token of good luck & granting wishes gifted to a loved one and may be complimented with the Araiya wish necklace or bracelet.